Beauty
Visit our Beauty Hall and browse the latest products from the world of beauty. With exclusive offers and the latest skincare launches from top brands, including Benefit, Bare Minerals, Estée Lauder, Clarins, Lancôme, and Clinique, there's always something new to discover. In our Bath and Beauty section, you'll find a host of luxury brands including Rituals, L'Occitane, ThisWorks, Crabtree & Evelyn, and Cath Kidston. Complete your visit with a stop at the Perfume Shop, showcasing all the latest and most iconic fragrances from around the world.
If you have any queries, please feel free to contact our staff at this number: 028 7034 4444, and press 4 for Beauty Hall.
You can find our Beauty Hall on the ground floor.
bareMinerals
bareMinerals believe that makeup and skincare should not only make you look good, but also be good for your skin. Clean formulas have always been the heart and soul of their products since 1995. Browse luxe and effective skincare that's powered by naturally derived ingredients, such as their soft and smooth moisturiser and masks that purify and detoxify your skin. Select a mineral foundation that's good for your skin, while their eyeshadows and eye palettes invite you to play. Complete your runway look with the wide range of colourful lipsticks, lip gloss, mascara, eyeliner, and more.
bareMinerals' products are 100% free from chemical sunscreen, animal testing, phthalates, parabens, and palm oils. Instead, they're full of natural, clean, and good-from-the-earth ingredients.
Benefit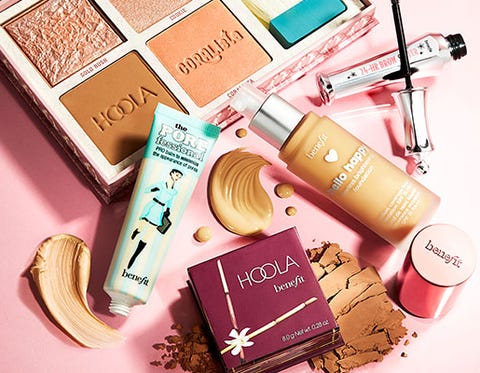 Benefit believe in fast and fabulous beauty solutions. Wow your brows with mascara, gel, and pencils, and turn heads with a wide selection of eyeliner and eyeshadow. Browse foundation, blush, highlighter, bronzer, and more for a runway look that'll see you from desk to dawn.
Rituals
Browse luxurious bath and body products that are eager to share the beauty within them. Rituals unveils the small moments we tend to overlook, and allows you to experience them with joy. Whether it's taking a nice long bath, or creating a soothing atmosphere with incense, Rituals helps you find happiness in the smallest of things. Inspired by the wisdom and ancient traditions of Asian cultures, Rituals has created an extensive collection of luxurious products for your home and body. Their signature fragrances embrace you with a sense of comfort and wellbeing. Browse a range of bath, body, and home products that make the perfect gift for yourself - and a loved one, too!
Molton Brown
London's Bath, Body, and Beauty Connoisseurs since 1971, Molton Brown has everything you need. Indulge in luxury with their perfumes, shower gels, body lotions, candles, and hand care products. Browse their range of products that blend exotic ingredients with a touch of eccentricity for bold fragrances and bright colours that stand out on the shelf. You don't have to go to a five-star hotel for Molton Brown - you can enjoy these soothing and refreshing products in the comfort of your home. Browse a wide range of body lotion, bath and shower gel, natural hair product, and soap - all designed to make your bathing routine a time of luxury, while hand creams will nourish your skin.
Molton Brown do not test on animals.
Crabtree & Evelyn
Brimming with adventure, passion, and authenticity, Crabtree & Evelyn strip back your routine by focusing on the essential - leaving more time for you. From essentials like shower gel to rich creams, discover bodycare products that soothe, nourish, and hydrate your skin. Enjoy complexion perfection with their skincare range, featuring foaming cleaners and gentle exfoliators. Choose a fragrance that will turn heads, or find the perfect gift for a loved one. Visit our store to find the perfect skincare routine for you.
Visit our store to shop these brands, and the many more listed below:
bareMinerals
Benefit
Rituals
Molton Brown
Crabtree & Evelyn
Chantelle
Clarins
Clinique
Elle
Estée Lauder
Ilbena
Lancome
L'Occitane
ThisWorks
Cath Kidston