Bamboo by Le Creuset
Available in store now
Like the tropical grass that inspired it, Bamboo, our new colour offering is the most versatile of evergreens. Embodying all the qualities of its beloved namesake, Bamboo is a stylish hue with a joyful spirit, enhancing any garden, and now any table. Whether dining indoors or out, Bamboo makes every dish feel fresh and inviting.
Bamboo, is a rich, organic shade that at once uplifts and soothes, shining its perennial beauty inside the kitchen and on the table. Purposefully crafted to be a true green, this restorative hue reflects current trends towards eco-sensibility.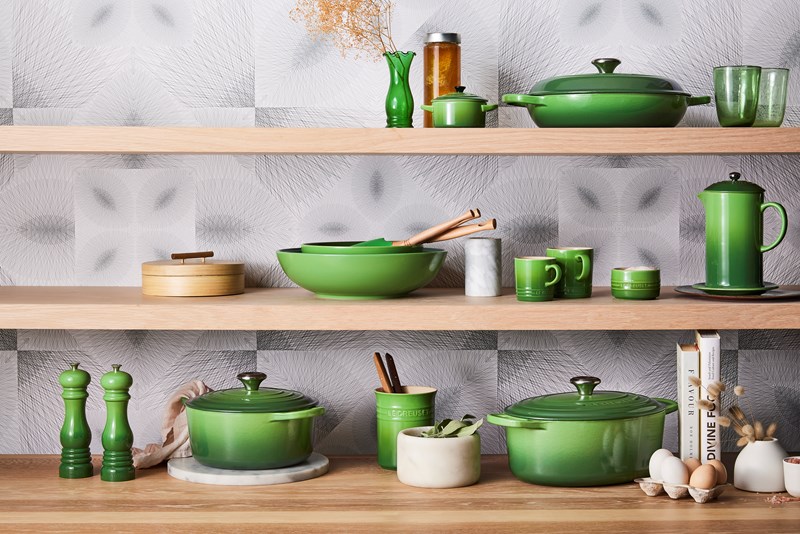 Cinnamon and Cherry Tomato Koshari with LE CREUSET CAST IRON
30cm Shallow Casserole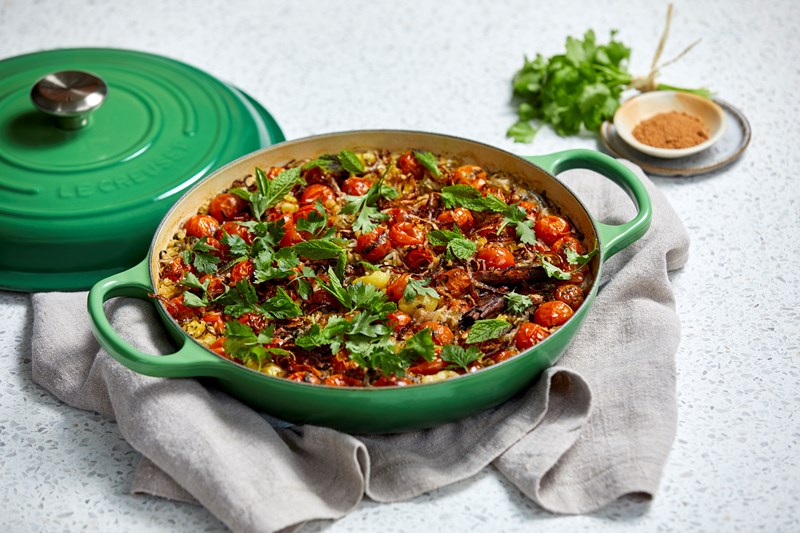 Preparation time: 15 minutes
Cooking time: 35 minutes
INGREDIENTS
150g of whole brown lentils
750g fresh cherry tomatoes or 2x400g tinned cherry tomatoes, drained 
4 cloves of garlic, kept whole
6 shallots, peeled and very thinly sliced 
5 tablespoons coconut oil
A small bunch of coriander, including stalks 
1 teaspoon ground allspice or 4 allspice berries, bashed 
1 stick of cinnamon 
300g of rice
Rinsed rapeseed oil 
A small bunch of parsley, roughly chopped 
A small bunch of mint, roughly chopped
________________________________________________________________
METHOD
Oven temperature, 200°C/180°C fan/gas mark 6.
First, soak your lentils in 300ml of warm water for an hour, then drain and rinse.
Preheat the oven to 200°C/180°C fan/gas 6.
Heat up you Le Creuset 30cm Shallow Casserole dish on a low to medium heat, add the tomatoes, the unpeeled garlic cloves, a quarter of the sliced shallots and 2 tablespoons of the coconut oil.
Chop the coriander stalks then add those as well, along with the allspice and stick of cinnamon.
Roast in the oven for 10 minutes then remove from the oven and sprinkle on the rice and rinsed lentils.
Add 900ml of boiling water, season with salt, cover with the lid and place in the oven for another 25 minutes.
While this is cooking, make the crispy shallots. Fill another pan with a 3cm depth of room-temperature rapeseed oil. Put over high heat and once hot, add the remaining shallots. You should see the oil bubble up when you add them. Give them a quick stir so they are all evenly submerged in the oil, then leave to cook for around 4 minutes, keeping an eye on them as they cook.
Once they start turning a light golden colour remove them from the oil with a slotted spoon and onto some kitchen paper then leave to cool completely.
Remove the rice from the oven and, using an oven glove, take off the lid and pick out the whole garlic cloves.
Let the rice stand for 10 minutes and, meanwhile, pop the garlic out of its skin and mash with some sea salt and the remaining 3 tablespoons coconut oil.
Stir the garlic oil through the rice followed by the chopped parsley, mint and coriander leaves.
Season with salt and pepper and top with the crispy shallots, serve in the pan in the middle of the table.