Travel
Whether you're looking for cabin luggage for a short business trip, a duffle bag for a weekend adventure, or a lightweight suitcase for a family holiday, you're sure to find it in our Travel Department. From top brands like Samsonite, Eastpak, and American Tourister, we've got a selection of soft- and hard-shell cases, with a wide choice of designs and sizes to show off your individual style. Complete your adventure with our Travel Accesories, such as travel mugs from Sigg and Thermos. You can even enjoy quality sleeping under the stars with our selection of tents.
You can find our Travel Department on the Ground Floor, but keep an eye out for promotions and offers throughout the store.
If you have any queries, please feel free to contact our staff at this number: 028 7034 4444, and press 8 for queries.
Samsonite
Samsonite's story began in 1910, when Jess Shwayder noticed the need for durable, high quality luggage during the Gold Rush in America. Since then, Samsonite has built a global reputation based on quality, innovation, and design. Their suitcases are designed with you in mind, using the best, lightweight, and shock-resistant materials so your belongings are protected. Browse our selection of Samsonite suitcases, which are easy to move around, light to handle, straightforward to pack, and easy to find on the baggage carousel! You can also discover their extensive collection of duffel bags and backpacks, which are perfect for shorter breaks or work trips, and professional laptop bags that keep you looking great.
Eastpak
Travel the world with Eastpak's luggage range, designed to make your journey hassle-free with innovative packing solutions and comfortable handling. Whether this is your first holiday or you're a veteran adventurer, you're sure to find the right style for you. For shorter trips, discover the perfect backpack, as Eastpak's backpacks are created with fuss-free use in mind, with padded straps and backs for comfortable carry. Plus, internal compartments will keep you organised!
American Tourister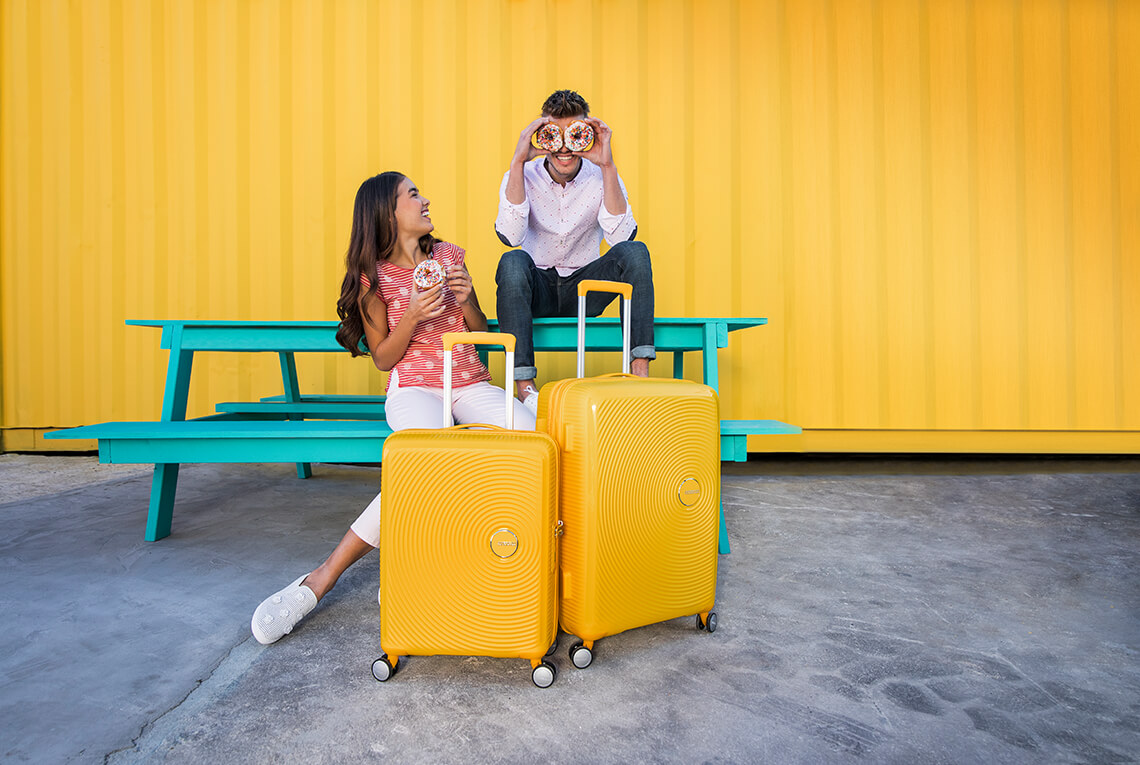 If you're looking for luggage that breaks the mould but doesn't break the bank, American Tourister has everything you need. American Tourister is on hand to bring you suitcases and checked baggage at fantastic value for money, and they'll save you from mistaking someone else's luggage as your own at the airport's baggage carousel. Whether you're looking for a hard or soft suitcase, explore their great options in our store, and find a range of vibrant colours that you'll love. You can also find environment-friendly travelling with American Tourister's Eco range.
Woodbridge
Woodbridge offer everything from mid to high end luggage, handbags, and travel accessories. Explore a range of patterns and colours, and you'll be sure to find something to suit your individual style.
Thermos
Whether you're commuting to work, heading out on a family picnic, or on a weekend camping trip under the stars, Thermos has you covered with travel mugs and flasks. Their selection of everyday mugs are perfect for the car, home, or your desk – and you can discover food flasks that'll keep your favourite soups and food warm for hours. When travelling, we can sometimes forget the small things, but Thermos will keep you organised with their sleek, stylish, and affordable travel mugs.
Below, you can find a selection of the top brands you can expect in-store:
Samsonite
Eastpak
American Tourister
Woodbridge
Brock
Sigg
Thermos